Transpotations Informations
Publication Date:
Last updated:2020-03-05
View count:2668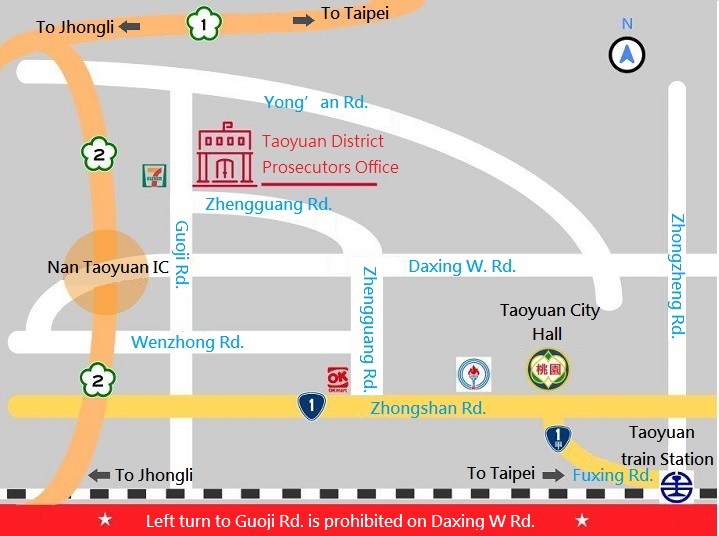 TEL:886-3-2160123
Address:No.898, Zhengguang Rd., Taoyuan Dist., Taoyuan City 330060, Taiwan (R.O.C.)
google coordinate(wgs84:25.00544,121.2912)
【BY Car】
★Through Freeway: Take National Freeway No.1 and change to Airport SIC (National Freeway No.2) in Taoyuan direction. Get off the freeway at Nan Taoyuan IC and take the Taoyuan exit. Follow the direction sign and go straight along Daxing West Rd. Make a left turn to Zhengguang Rd. You can find the Taoyuan District Prosecutors Office on your right hand side.

【BY Bus】
(1)
★Free Bus:Take Red line Free Bus from the Taoyuan city hall.Get off the bus at "Asian golf course" stop.Head north and walk about 3 minutes you will arrive; You can also take Blue Line, Get off the bus at "Jhong Pu elementary school" stop, Head south and walk for about 8 minutes.
(2)
★UBus:You can take UBus 168 at Taoyuan Train Station (Rear Station) or at Nei Li Fuxing Temple.Get off the bus at "New District Court" stop (will be renamed as Taoyuan District Prosecutors Station in the near future).